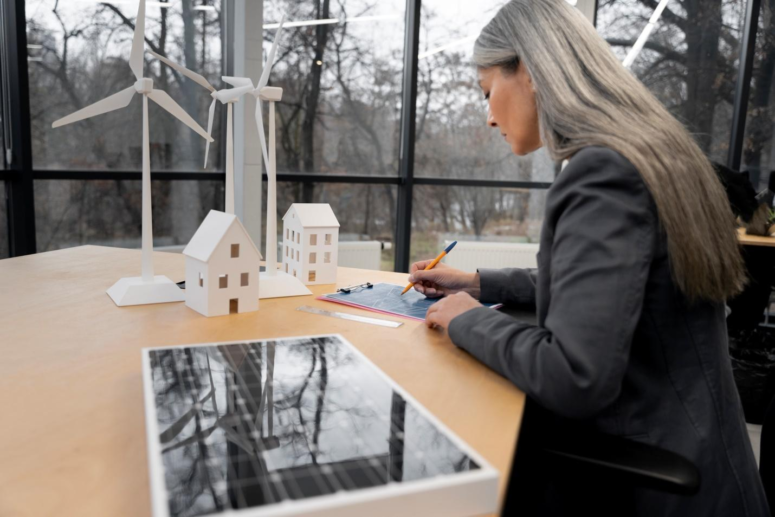 The energy sector offers an unprecedented opportunity for job growth and is playing a key role in bridging the gender gap, including more and more women in the fight against global warming. The sector is expected to more than double the number of jobs by 2050, ensuring these opportunities are equally accessible and offer fairly distributed benefits, promoting the inclusion of women in renewable energy.
However, many countries still have an unsatisfactory situation with male-dominated energy sectors. Organizations like the World Bank, IRENA (International Renewable Energy Agency), IISD (International Institute for Sustainable Development), and others are working to bridge this gap and include more and more women to accelerate the impact of policies and achieve sustainability in its true sense.
So what is the role of women in renewable energy? What policies are in place to bridge the gender gap? And are these policies effective? Let's find out!
The Role of Women in Renewable Energy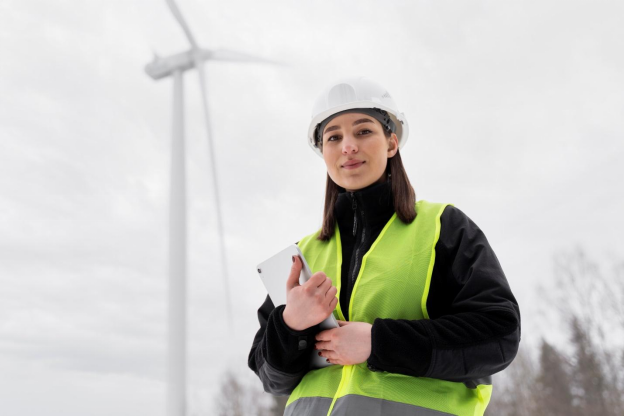 The energy sector is booming, as is the presence and role of women in the area. Worldwide, the role of women in renewable energy is believed to accelerate the building of a sustainable future through their talent and unique perspective. No wonder energy recruiters are keen to add women to their teams.
IRENA's Report
The gender dimension in the renewable energy sector is a crucial area of ​​interest in IRENA's analytical work. The objective is to inform political decision-makers, industrialists, and development actors to raise awareness of the importance of integrating the gender dimension in renewable energy projects and policies.
According to the agency, the energy transition can stimulate economic development and create jobs. The renewable energy labor market reached about 12 million jobs in 2020, which is expected to nearly quadruple by 2050.
The photovoltaic (PV) sector is the largest employer among the renewable energy sectors, accounting for about 4 million jobs. The renewable energy sector will remain a main driver of growth and employment, with an estimated 15.5 million jobs by 2050.
IRENA reports a growing presence of women (40%) in the photovoltaic industry. There's no area in the sector where women are not making their mark, be it research, design, or engineering. In fact, more and more women are contributing to renewable energy solutions, from designing solar panels to developing new wind turbine technologies.
The agency, however, also points to the still prevailing gender gap in the renewable energy industry as a whole. It estimated that women are significantly underrepresented in the energy sector, making up less than a quarter of the overall energy workforce and around a third of the workforce in the renewable energy sector.
It considers that without the full engagement of women, the growth of renewable energies will be below its potential. If the solar industry does not include a gender perspective to integrate more women, it will deprive itself of a large pool of talent.
Additionally, the sector will miss the opportunity to create a better working environment for all employees, as having more women in the workplace has been proven to improve organizational culture and foster engagement and employee loyalty.
Advancing toward gender equality contributes to achieving all the SDGs, which increases the importance of working at all times with a gender perspective and inclusion. But the role of women in renewable energy remains to be an untapped potential, and they are still underrepresented in the industry.
In 2019, IRENA published a study highlighting women's absence in the energy sector. The study highlights that women comprise only 32% of the renewable energy production workforce and 22% of the fossil industry workforce.
Despite the fact that it is a better number, the participation of women is still insufficient in the sectors, more so when we do an analysis of the jobs. Even if the renewable energy recruitment companies hire more and more women in renewable energy, they are still confined to positions involving administrative tasks rather than technical ones: women fill only 28% of engineering positions against 45% of administrative positions.
In addition, due to their low wages compared to men, women are more affected by climate change as head of the household. Therefore, they should be given equal opportunities to become integral to the energy transition.
Role of Women in Renewable Energy in STEM Positions
The percentage of women is much lower than men in STEM positions (English Science, Technology, Engineering, and Mathematics). This means that a very small proportion of women work in positions such as engineers, technicians, or research in the energy area worldwide.
The most worrying thing is that the percentages are further reduced in management positions, so it is evident that decision-making in energy matters does not include a gender perspective overall. Although some countries at the forefront of breaking this glass ceiling and bridging the gender gap have witnessed a change, there's still a lot to work on, particularly in countries where the situation is worst.
Unfortunately, the inequality for women in renewable energy often goes unnoticed. Statistics show that only 40% of men consider there are barriers to decision-making and elaboration of energy policies, unlike the 75% of women who consider this.
To achieve an energy transition, the gender equality factor must be included in all the plans intended to be implemented, which is why it is one of the SDGs. It is key to achieving a green transition that allows us to adapt and be more resilient to climate change. In addition, multiple studies have indicated that climate change affects women more due to various factors, from food security, discrimination, access to energy, health problems, and so on.
Speaking of access to energy, women are more affected than men, and statistics indicate that they suffer more from energy poverty. For example, in rural areas, they are the main energy providers for heating their homes, so they are more likely to develop respiratory diseases due to the fuel they use to power their homes, from firewood, coal, and kerosene, among others. In addition, they spend nearly 50% of their income just to cover basic heating and cooking needs barely.
The Presence of Women in Renewable Energy Is Growing, but It's Still Lacking in Management Positions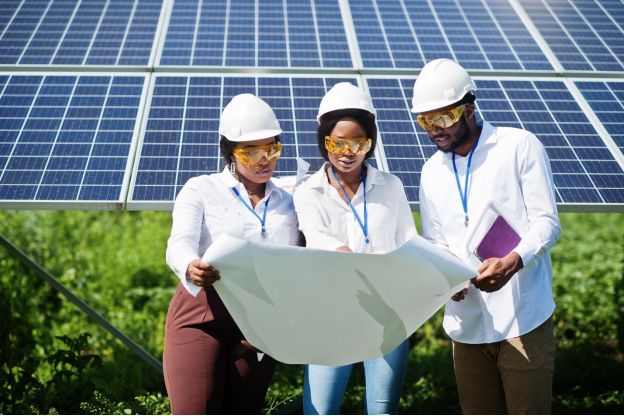 The female presence in the energy industry has expanded, and energy recruiters are increasingly looking for female talent thanks to the growth of the renewable energy sector, the evolution of society itself, and the increase in women in technical careers. Experts from the International Energy Agency state this, although they are also clear that there is still a long way to go, especially regarding women's access to positions of power.
As they explain, the increase in female presence in the energy industry in the last ten years has been estimated at 29.6%. Said increase, together with a drop in male affiliation, has placed female employment at 27% of the total for the sector, with a development of almost seven points in recent years. The data is not different from the worldwide study by IRENA.
However, despite these positive data, women's access to decision-making positions continues to be low in the renewable sector, with only 17% of women in senior positions management positions in photovoltaic and only 8% in wind power. Globally, the IEA points out that only one in five positions in the energy sector is held by a woman.
For all these reasons, the evolution towards a more egalitarian society has opened the way for women to both activities and studies traditionally reserved for men.
However, women themselves are seeking to change their history. In the search to have the same rights of access to energy or equal influence in the electrical industry, women worldwide are making real changes in their communities and their workplaces.
In engineering schools linked to energy, the female presence is increasing. As a way of improvement, experts stress the importance of showing young women leaders in the profession they want so that they know that it is possible to dedicate themselves to what they like, regardless of their gender.
In addition, renewable energy recruiting companies also have to play their part by providing equal opportunities to women in the field. Renewable energy recruiters, firms, NGOs, and institutes worldwide have already been contributing to this cause and have set examples by having women in leading positions who, being protagonists of this energy and social transition, have been able to bridge the gender gap in the world of renewable energy.
Great Examples of Women in Renewable Energy
From the access point of view, solar energy is an energy ally for many women because its application in isolated systems or microgrids lends itself more to self-management (unlike other types of energy). From the field of professional development, there are also more women working in the solar energy sector, specifically photovoltaic, as indicated in IRENA's report.
This is a big step, and it speaks of the fact that solar energy could be a great ally to link gender and energy equality, being the type of energy that will face climate change.
Some of the prominent women in renewable energy include:
Denise Gray, President of LG Energy Solutions, made the lithium-ion battery system's development and implementation in the Chevrolet Bolt Hybrid possible.
Lisa Davis, Siemens Energy's former CEO and board member, led the company toward sustainability and renewable energy.
Yolanda Mabuto of Divaine Growth Solutions has been contributing to facilitating the use of renewable energy in South Africa and fighting gender inequality since 2016.
Judith Marera of the Zimbabwean company Lanforce Energy is also fighting for women's financial independence, promoting low-cost renewable energy.
The Jordanian company, Maysoon Al-Khuraissat, promotes the inclusion of women architects and engineers in the construction and implementation of sustainable solutions.
Women have indeed marked their presence in the sector. But this can also be seen in underprivileged areas.
Important movements have emerged, such as the Solar Sisters in Africa, for years. Women from rural communities and with high levels of marginalization who found solar energy a self-employment mechanism can now generate income, improve the standard of living of their families, and sell solar lamps in their communities. In addition, by being self-employed, they contribute to the economic development of their surroundings. Having lighting at night, many women can take advantage of more time to work, which was impossible before.
Something similar in India is with the Solar Mamas, women of middle and old age who are trained as solar engineers to install and maintain solar panels. Yes, we are talking about women without formal education becoming solar engineers. This no longer only covers the area of ​​India. Even Mayan women have gone to be trained to apply this knowledge in their communities in Mexico.
Stories like these inspire us to continue in the fight against climate change. As women have a heavier burden because they continue in an unequal society, so they will continue to seek to place themselves in spaces seeking recognition, representation, and equality.
Final Thoughts
Despite much progress, gender inequality still exists, and the energy sector has been unable to escape it. The data speaks the truth. Renewable energy companies, energy recruiters, NGOs, and governmental and non-governmental bodies can break this glass ceiling, increasing the presence of women in renewable energy if they work together.
Plus, there's also a need to influence decision-making, the economic system, and energy autonomy so that all those women who remain in energy poverty have the same rights to quality of life and be able to overcome these barriers that prevent them from developing economically from the north to the south.
The Whitham Group has been at the forefront of bridging the gender gap and is a witness to more and more women joining the field. Headquartered in San Fransisco Bay Area, Whitham Group is one of the leading executive recruiters in the energy industry, providing top-notch recruiting services to companies to help them find the right talent.
Get in touch today to learn more!